In the face of disaster, Americans come together with courage, compassion and unity and ask, "How can I help?"
There are many ways to Get Involved especially before a disaster occurs. The whole community can participate in programs and activities to make their families, homes and communities safer from risks and threats. Community leaders agree the formula for ensuring a safer homeland consists of volunteers, a trained and informed public and increased support of emergency response agencies during disasters. Major disasters can overwhelm first responder agencies, empowering individuals to lend support.
So Get Involved before disaster strikes! Here are a few ways you can help:
Volunteer to support disaster efforts in your community. Get trained and volunteer with a Community Emergency Response Team(C.E.R.T.), Medical Reserve Corps unit and/or other Citizen Corps Partner Program or Affiliate organization. Many local faith-based and community organizations have programs active in supporting disasters too. View more volunteer opportunities.
Join or start a preparedness project. Find an event or identify local resources, build a team, choose a project, set goals and serve your community by improving the preparedness of your friends, colleagues and neighbors. Get started.
Support major disasters by donating cash or goods which may help meet the needs of your community in times of disaster.
This represents only a few of the many ways that individuals and community organizations can Get Involved to help communities lessen, prepare for, respond to and recover from disasters. If you have additional ideas or success stories, you may share them by Contacting Us.
The mission of Citizen Corps is to harness the power of every individual through education, training, and volunteer service to make communities safer, stronger, and better prepared to respond to the threats of terrorism, crime, public health issues, and disasters of all kinds.
The FY2011 National Report on Citizen Corps Registration and Profile Data (55-page PDF, 1.94 Mb) showcases the impact of Citizen Corps Council efforts on national preparedness and highlights the following activities:
Preparing the public for local risks with targeted outreach
Engaging voluntary organizations to help augment resources for public safety, preparedness and response capabilities
Integrating whole community representatives with emergency managers to ensure disaster preparedness and response planning represents the whole community and integrates nontraditional resources
Helpful Links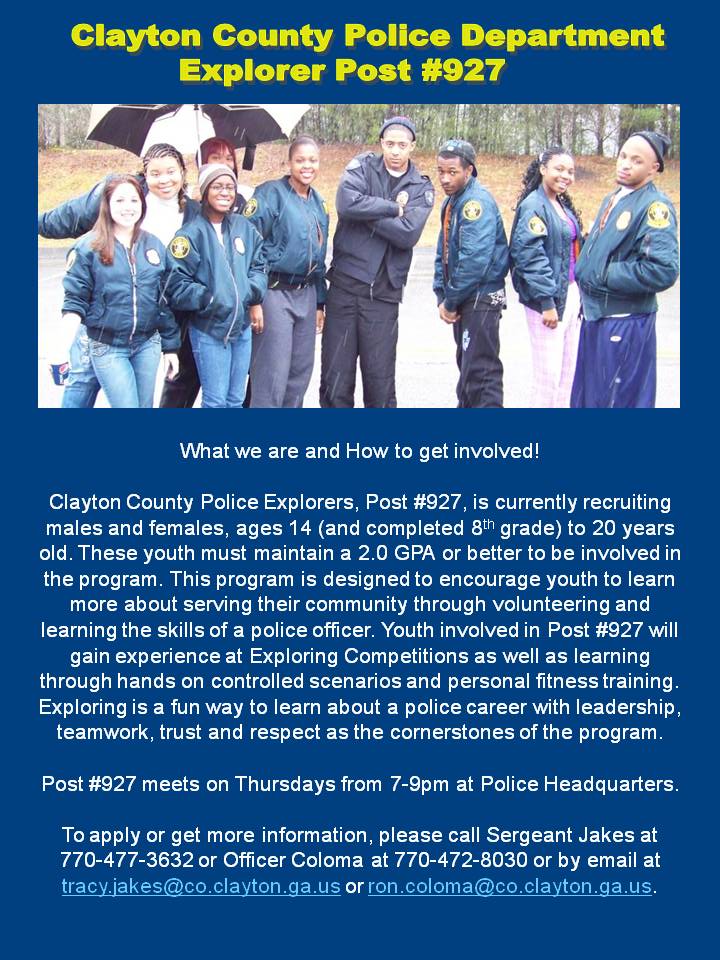 The Community Emergency Response Team (CERT) program helps train people to be better prepared to respond to emergency situations in their communities. When emergencies happen, CERT members can give critical support to first responders, provide immediate assistance to victims, and organize spontaneous volunteers at a disaster site. CERT members can also help with non-emergency projects that help improve the safety of the community.
The CERT course is taught in the community by a trained team of first responders who have completed a CERT Train-the-Trainer course conducted by their state training office for emergency management, or FEMA's Emergency Management Institute (EMI). CERT training includes disaster preparedness, disaster fire suppression, basic disaster medical operations and light search and rescue operations.
Fill out our Clayton County CERT Volunteer App (pdf) (61 KB)
Learn more by visiting the C.E.R.T. website.
Teen C.E.R.T.
As a teen, there are probably a lot of things you're told you can't do. But there is one very important thing you can do: Learn to protect yourself, your family and your friends in case of a disaster. Teen CERT training teaches you about the potential disasters that could affect your area and how to safely and responsibly respond to them. Through Teen CERT you can serve your community and help take care of your school and home.
Are You Ready?
Would you know what to do if an emergency stuck your community? Your school? After a disaster, professional responders will be needed everywhere. In the chaotic aftermath of an emergency, who could help until professional responders arrive? Who could be the first person on scene to step up? The answer : YOU.
When you see a classmate's or teacher's look of fear, you can be the support they need. You can direct friends to safety. You can help those who are hurt. You can be a leader in your school. In most emergencies, the victim or a bystander provides the first immediate assistance. Joining Teen CERT teaches you how to respond when others look to you for help.
What You Learn
It takes about 20 hours to complete the CERT training. But the critical skills you learn will last your entire life. During the training you will learn to:
Extinguish small fires
Conduct light search and rescue
Assist those who are injured
Set up medical treatment areas
Assist emergency responders
Identify & anticipate hazards
Reduce fire hazards in the home, school and workplace
Help reduce survivor stress
What You Do
We all have a role to play in ensuring the safety of our community. No matter where you live, no matter who you are, no matter how you participate. What role will you play? Once you complete your CERT training you can participate in or lead a variety of activities. During an emergency Teen CERT could:
Organize other volunteers
Assist in evacuations
Provide damage assessment information
Provide shelter support
Give assistance to other survivors
Assist with crowd control
Participate in disaster drills and exercises
Individuals can make a difference in their own community but not everyone has bought into preparedness. Research on personal preparedness indicates that individuals who believe they are prepared for disasters often are not as prepared as they think. In addition, some admit they do not plan to prepare at all.
The challenge: Maximizing awareness and encouraging participation in disaster preparedness activities to affect change at the community level.
Our nation's emergency managers, firefighters, law enforcement officers, EMT/paramedics, and other emergency responders do an incredible job of keeping us safe, but they cannot do it alone. We must all embrace our personal responsibility to be prepared – in doing so; we contribute to the safety and security of our communities as well.
There are organizations in your community that host community-planning meetings, provide preparedness information and volunteer opportunities to community members and when in need, are available to respond to a disaster. Organizations like Citizen Corps provide this support in communities nationwide.
The Citizen Corps effort is coordinated at the local level by Citizen Corps Councils or similar coordinating bodies, which bring together community leaders to plan for emergencies before they happen. The local leaders who serve on the Citizen Corps Councils should reflect all sectors of the whole community to ensure every stakeholder has a seat at the table. Citizen Corps Council members participate in developing community emergency plans, conduct localized outreach and education to the public, offer training and participation in exercises, encourage volunteerism, and in the event of a disaster, form an integral part of the response.
For more information, visit: https://www.ready.gov/citizen-corps
Volunteer with Community Organizations
Hurricane Katrina and the terrorist attacks of September 11th, 2001 caused many Americans to wonder how they can help prepare their communities.  Through Citizen Corps, individuals can learn about opportunities to get involved and help build capacity for first responders. With proper training and education, civilian volunteers expand the resources available to states and local communities. Many partner organizations offer public education, outreach and training for free.