Deputy Chief Rich Elliott. . .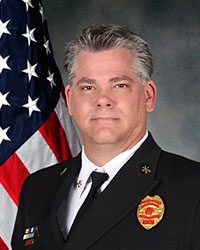 was a resident and was raised in the City of Riverdale. His family has had roots in Clayton County for over 100 years. Immediately after graduating from Riverdale High School, he joined and is a Veteran of the United Stated Marine Corp. His formal education includes an Associate of Science in Fire Science, a Bachelor of Science in Fire Administration Fire Investigation, and a Master of Science in Emergency and Disaster Management.
Chief Elliott has been in the Fire Service since 1988. He began his career as a fire/medic with Clayton County Fire & Emergency Services in Jan. 2001. He has advanced up the career ladder, and in Mar. 2014 was promoted to the rank of Deputy Chief. He is certified as a State of Georgia Firefighter and licensed as a Paramedic and Paramedic Instructor/Coordinator. He holds NPQ certifications as a Firefighter I & II, Instructor I & II, HazMat Technician, and Fire Officer I, II, & III. He also holds instructor certifications with the Georgia Peace Officer Standards and Training Council, the National Association of EMTs, the American Heart Association in ACLS, BLS and PALS, and a Cadaver Lab Instructor with the Georgia EMS Association/Georgia Trauma Commission. Chief Elliott is a member of the Metro Atlanta Fire Chief Association, serves as the chairperson and member of the Georgia Department of Public Health Region III EMS Council, a co-chair of the Workforce Taskforce for the Georgia Emergency Medical Services Advisory Council, and a member of the Georgia EMT Association. He is also an adjunct faculty member with Columbia Southern University.
The Planning and Training Division is charged with the development, delivery, and facilitation of education and training programs for new and veteran members of our department covering areas of fire suppression, hazardous material mitigation, technical rescue, emergency medical services, leadership, career and officer development, emergency preparedness, management, and disaster response.
As the department's Chief Training Officer, Chief Elliott is accountable for establishing goals, benchmarks, and best practices for the department's Training Academy; maintaining standards consistent with CFAI and CoAEMSP accreditation; determining and supporting education and planning objectives aligned with the department's strategic plan, risk assessment, and standards of cover; preparing and managing a division budget, facilities, and equipment; assuring compliance with national, state, and local standards related to education and training; consulting with the Fire Chief, Chief of Staff, other executive staff members within the department; researching, constructing, and proposing innovative programs and initiatives geared to strengthen future growth and educational opportunities for department members and service delivery to our community.