Clayton County Fire & Emergency Services provides the best response and fire suppression to our citizens with state of the art fleet, equipment, and highly trained personnel; however, you have to do your part.  Your ability to get out depends on advance warning from smoke alarms and advance planning.  When fire strikes, you need to know what do and how to safely get you and your family out of the home.
Click the link below and download a sample escape plan to help you establish your household's E.D.I.T.H (Exit Drills In The Home) plan.
Nothing can ever fully prepare you for the damage or loss of possessions, keepsakes, and property that happen when disaster strikes. In an instant, life suddenly changes and our lives are turned upside down. CCFES would like to help. We have found that oftentimes the hardest part of putting it all back together again is figuring out where to begin and who to contact. We have prepared this brochure to help in this basic, but very crucial first step.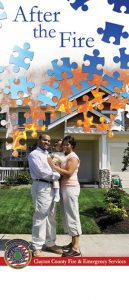 Your First Steps . . .
If you are insured, contact your insurance company for detailed instructions on submitting a claim, protecting your property, conducting inventory, and contacting a fire damage restoration company. If you are renting, contact the property owner.
You may want to contact The American Red Cross The Red Cross may be able to assist you with your immediate basic needs such as a temporary place to stay, clothing, food and medicine.
To help expedite the recovery process after a disaster strikes an insured or uninsured homeowner has choices and may select one of CCFES-approved Victim Assistance Providers (VAP). Whichever VAP you choose, their quick response team will provide services that may include board up and tarp service, water extraction, crisis counseling, temporary relocation service, and many more. You can find the list of approved VAPs on the back panel of this brochure.
Smoke detectors are available while supplies last. You must sign a release prior to obtaining a smoke detector. Supplies are designated for all of unincorporated Clayton County as well as the city of Jonesboro and city of Lovejoy. To get your smoke detector contact Clayton County Fire & Emergency Services at 770-473-7833.
If you live in the city of Riverdale, College Park, or Morrow, please contact your local fire department.