Clayton County Fire & Emergency Services offers CPR Classes for the general public throughout the year. This training will provide citizens with basic knowledge and the skills to apply during a cardiac emergency, before emergency personnel arrive.
This "Heartsaver CPR with AED Course" provides training to be administered on adults only.  This class does NOT cover first aid and does NOT include CPR on infants/children.
CPR/AED classes will occur on the first Friday of each month. The class will begin at 9:00 AM and will last approximately four hours, including a skills verification portion.  Class space is limited; therefore, preregister by entering your information in the fields below.
There is a cost for this course. The cost of this training is $40, paid on the day of class.  Seniors 65 years or older with valid ID are $30. Cash, money order, or debit/credit cards are the only forms of payment accepted.  NO personal checks are accepted. A 3% surcharge will be added to the amount for those who are paying with debit or credit cards.
We are located at 7810 Highway 85, Riverdale, GA 30274 – behind the HQ/Station 11 buildings.  See map below.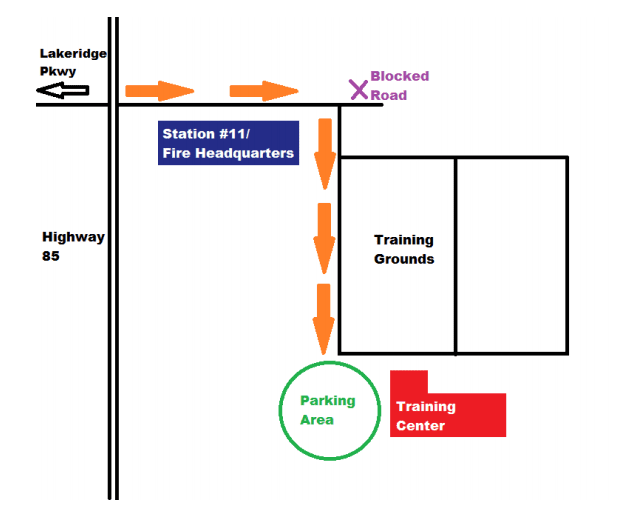 Admission Policy
We ask that you arrive at the training center 30 minutes before your scheduled appointment time.  This will give you adequate time to complete the necessary sign-in procedures and make your payment.
Please be prepared to show personal identification.  ID can be a driver's license, state identification card, military identification, or passport and include a signature and permanently affixed photo (visible signature not required for valid military IDs).
Reschedule Policy
If you wish to reschedule or cancel your course/class, we ask that you contact a member of our staff at least one business day (24 hours) prior to your course/class appointment. Please call 770-473-3830 (M-F 8:00 to 4:00 pm EST).
Thanks for your interest!