Deputy Chief David Vazquez. . .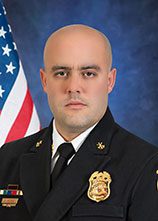 began serving the citizens of Clayton County in 2001. He grew up in the Riverdale and Jonesboro areas and graduated from Lovejoy High School. Chief Vazquez has served as a Firefighter/EMT-I, Fire Sergeant, Fire Lieutenant, and Fire Captain/Assistant Fire Marshal, Battalion Chief of Professional Standards, Deputy Chief/Fire Marshal. Chief Vazquez holds state certifications as a Fire Inspector, Fire Investigator and POST certified Peace Officer. In 2008, he successfully completed the Clayton County Regional Police Academy and earned the Honor Graduate Award for his display of leadership and excellence. He holds an Associate and Bachelor of Science in Organizational Leadership. Throughout his career he has been awarded a multiple Trauma Life Saving Awards, Rescue Award, and a 10 Year Safety Award. Chief Vazquez serves his nation as a reservist in the United States Air Force.
Chief Vazquez now heads the Office of Professional Standards. His current responsibilities are to oversee the Department's fire accreditation, policy mandates and revisions, recruitment, as well as new employee hiring, and public affairs. He is also the commander of the Tactical Medic Program, the GCIC Terminal Agency Coordinator, POST Liaison, and ISO Coordinator.
Chief Vazquez cares for the protection and quality of life for the citizens of Clayton County.