How can you become a Clayton County Fire & Emergency Services Firefighter?  First, you need to know more about your career choice and what it takes to get there.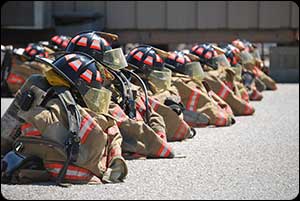 Providing the best customer service and professional responses is our goal 24 hours a day. In order for us to deliver the best service, our firefighters are also required to become Georgia licensed Advanced Emergency Medical Technicians.  For those who are not already licensed, our EMS Academy will provide this course here at CCFES.
Human instinct is to run away from fire.  As a firefighter you will be running toward a burning building in search of people needing help.  How will you be able to do this?  You will have outstanding training, the best personal protective equipment and the knowledge that you are surrounded by experienced and competent firefighters.
What kind of emergency are you "fit" to fight?  Each and every emergency places physical demands on our responders, from medical emergencies to apartment fires and everything in between.  Do not wait to get in shape, start right now.  Our physical agility assessment is designed to simulate not only actions you would perform at a fire but also the fatigue you will endure.
Our "Firefighters Combat Challenge" course serves as the physical agility test that candidates are expected to complete and our personnel complete annually.
Selection Process and Requirements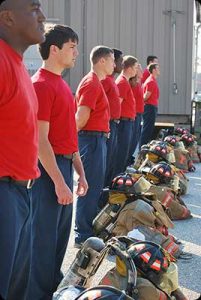 Applicants must be at least 18 years old

Must have earned a High School Diploma or GED
Have a current valid Georgia Driver's License
Written Exam
Physical Agility Test/ Firefighter's Combat Challenge Course
Polygraph
Physical & Drug Screening
To view our list of disqualifiers, Click here.
Once these steps are completed, all viable candidate information will be turned over to the Fire Chief and you will be notified if you are chosen for an interview.
To see if we are currently hiring, Click here and look under "Fire & Emergency Services."  (This page is updated weekly, so check back regularly.)
If we are not currently hiring for Firefighter/Recruit, click here to be placed on a notification list.  You will be contacted via email when the application process opens.
Clayton County Fire and Emergency Services offers Firefighter Recruit, Advanced EMT, and other training courses to non-employees.  To learn about our courses and how to sign up, visit the "Train Here" pages under the Join/Train menu at the top, or click here.
What to expect as a new recruit
HONOR, COURAGE, COMMITMENT,. . . these are the words that guide our actions at Clayton County Fire & Emergency Services.  During recruit training you will not only recite them but you will be expected to live by them.  CCFES provides a comprehensive & fast paced Recruit Training School.  Our Training Staff use the National Professional Qualifications guidelines and most current training materials to design the demanding coursework that will prepare you for a career in the fire service.  Topics covered during recruit school include written and practical applications.
You will be introduced to all areas of the fire service such as:
Fire Behavior & Control
Water Supply & Hose Advancement
Survival skills in a hazardous atmosphere
Building Construction
Hazardous Materials
Extrication
Ropes
To learn more about the Career Path of a Clayton County Firefighter Click Here
"Train as though your life, the life of your peers, and the life of the citizens we serve depends on it."