Emergency Medical Services and Programs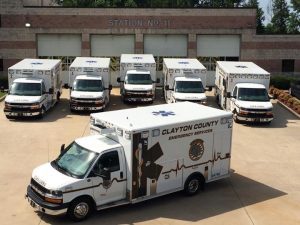 The department's EMS started in 1974 with three EMS vehicles and one reserve. The EMS division expanded to transport patients to the hospital in 1977.
Today, the EMS service is comprised of 12 Advanced Life Support (ALS) Ambulances, three Community Treatment units with Nurse Practitioners and Paramedics, and one Community Care Unit with Paramedic and ALS capabilities.
Community Treatment Program (CTP)
The departments' Community Treatment Program (CTP) is a health care initiative designed to provide superlative care by pioneering a retro-engineered strategy to deliver the highest level of community care and education possible. The CTP will play a pivotal role in decreasing health care disparities by integrating a sustainable multi-tiered health care model with a community in need. Clinical care excellence will be achieved through physician directed, data driven, and patient-centered medical care.
Community Treatment Unit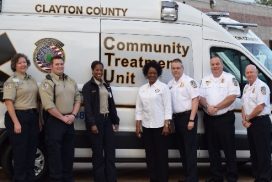 The Community Treatment Units consists of three specialized units, which are staffed by three nurse practitioner/paramedic teams per shift. These units, while being capable of responding to any 911 calls, cater to calls where there is a medical need, but not necessarily a life threatening emergency. Because of the Nurse Practitioner's experience and level of training, many of these calls are able to be appropriately mitigated on scene, saving the patient both time and resources by not having to go to the Emergency Room. This also frees up the ER to take care of patients who do certainly need to be there. This is a pioneering program that continues to develop as the department sees additional needs and opportunities. Five months into the program CCFES is responding to approximately fifteen to twenty calls per shift, with three-fourths of those calls addressed appropriately without transport of the patient.
Community Care Unit

The Community Care Program is designed to enhance the quality of care and health status for the participants while reducing the cost to 911 communications and the hospital. The program is based on the medical, social, and behavioral needs of the participants within the community.
There are several objectives to the Community Care Program. Eligible participants are enrolled in a series of home visits for a period of 30 to 90 days with a graduation end date. Personnel involved in the program educate and provide appropriate ways to manage healthcare needs. Participants are made aware of other various programs available through the community and healthcare system. Personnel also educate the participants on how to utilize primary and specialty care providers.